There are other features associated with various LPWA connectivity technologies, which we will explore below. Let's list the most popular and versatile LPWAN connectivity types currently available.
CAT-M1
CAT-M1 uses 4G networking to provide less throughput than CAT 0/1/4 and has a narrower bandwidth of 1.4 MHZ compared to 20 MHz of standard LTE or CAT 0/1/4. This lets you transmit larger data packets and perform basic application functions.
The benefits of CAT-M1
Built on existing 4G networks.

Supports larger data packets, enabling more complex application functions.

higher data rates, wide bandwidth, and lower system latency

Works with existing LTE networks




CAT-1 vs CAT-M1
| | | |
| --- | --- | --- |
| Specification | CAT-1 | CAT-M1 |
| Bandwidth | 20MHz | 1.4MHz |
| Downlink (DL) peak rate | 10Mbps | 1Mbps |
| Uplink (UL) peak rate | 5Mbps | 1Mbps |
| Power demand | Low | Very low |
| Transmission Duplexity | Full duplex | Full duplex or half duplex |
| Complexity | Moderate (simpler than CAT-4) | Much lower than CAT-1 |
Narrowband IoT (NB-IoT)
Narrowband IoT, or NB-IoT, is a type of Low Power Wide Area technology that is highly affordable. This makes it an excellent option for large-scale operations like smart cities, smart metering, and smart assets.
NB-IoT is developed for large-scale low bandwidth vs throughput/transmission IoT use cases and a huge network of sensors, meters etc. It offers data transfer speeds up to 30 kbps downlink and up to 60 kilobits per second uplink using 180 kilohertz of cellular bandwidth.
However, NB-IoT in some regions is not prevalent due to the complexity of creating and maintaining a new dedicated network; for example, it isn't widely available in the US, where LTE-M is the more prevalent option. This is due to LTE-M radio being fully compatible with LTE one, while NB-IoT is not, requiring changes in the access networks. It is, to a large extent, a new radio access technology. Elsewhere, however, NB-IoT can be a great choice.
The benefits of NB-IoT
NB-IoT is great for indoor use.

NB-IoT can preserve the battery life of devices very well.

It doesn't interfere with other networks, making it great for network-dense areas like cities.

You can use NB-IoT for both uplink and downlink.

Great for devices that frequently send/receive small bursts of data.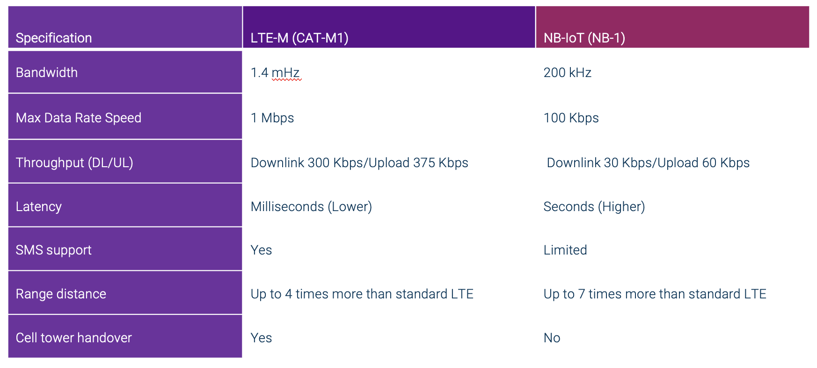 LoRaWAN
LoRaWAN network is another type of LPWAN technology based on another standard networking layer that has gained popularity in the EU. It does not present the advantage of leveraging ubiquitous and reliable cellular networks as it is not a cellular technology like NB-IoT/LTE-M. A new LoRa network of gateways is deployed to deal with LoRa devices.

Rather than sticking to a single signal, they distribute data across several frequency channels using varying data rates. This increases the gateway's capacity and, at least in theory, makes it more reliable.
Lora WAN is not necessarily known for its reliability and is, in most cases, unnecessarily complicated. For this reason, Lora WAN is becoming less popular over time and is not a recommended LPWAN solution for most businesses.
Sigfox
Sigfox is a proprietary LPWAN technology, meaning that it can only be used by Sigfox customers. It transfers data more slowly but has a wider range, making it a trade-off that some businesses will favour.
However, Sigfox is an LPWAN solution falling out of favour for newer technologies. It's only useful in a handful of cases and can be unreliable. It's also not recommended for most businesses.
You might also be interested in the below articles:
Blog Article: Massive IoT projects - CAT-M1 or NB-IoT?
Blog Article: LPWAN technologies explained
Blog article: What are the differences between LoRaWAN and NB-IoT?