IoT asset tracking can be helpful in many different industries, including:
Transportation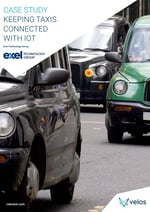 IoT asset tracking can be especially useful in transportation. You can track fleets of vehicles like taxis or busses and keep track of maintenance requirements for each vehicle, optimise their routes and monitor fuel consumption.
Read how our partners at Exel Technology tackle taxi fleet tracking and management with the Velos IoT cellular solution.
Healthcare
Did you know that hospitals need to keep track of massive inventories? They need to monitor every medical instrument, gauze pad, wheelchair, and medication cart. IoT asset tracking technology can help hospitals efficiently manage their equipment.
Manufacturing
The manufacturing industry can put IoT asset tracking to use in a variety of ways. Bluetooth, UWB and RFID technologies can help reduce human error when scanning and tracking components or help expeditors find missing parts that haven't made it from one workstation to another.
Logistics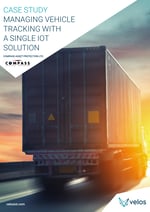 Keeping track of a supply chain is a lot of work with many different stages. IoT solutions can help you track where goods are in the supply chain, keep drivers safe using IoT sensors, and even provide you with actionable data about fast-selling assets and stock to help your business grow.
Optimise your supply chain with real-time monitoring and actionable data about delivery status, item conditions and vehicle maintenance. Increase security and reduce the chance of tempering with high-value items en route.
Construction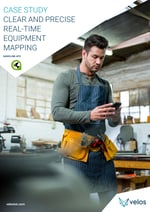 Construction equipment is expensive, and equipment theft from work sites can be a serious concern. IoT asset tracking can let you know as soon as a piece of equipment leaves a specified geofenced location to help prevent theft and loss.
Agriculture
As one of the world's oldest industries, agriculture has seen plenty of innovations. Using IoT asset tracking solutions can help farmers manage the condition of their equipment, monitor supply levels, and see the location data of livestock.
Pet monitoring
Having a pet go missing is a stressful, potentially heart-breaking experience. With IoT asset tracking, you can keep track of your dog or cat with collars or tags that use cellular technology.
Law enforcement
Law enforcement organisations can use IoT asset tracking to monitor everything from weapons to patrol cars to police officers themselves. Tracking can be beneficial for directing teams of backup officers to specific locations.
Education
IoT asset tracking helps teachers keep track of school-issued laptops or tablets and can allow administrators to keep an eye on an entire school district's inventory.