FUTURE-PROOF YOUR

CONNECTIVITY

WITH

VELOS

IOT

ESIM CONNECT- ESIM FOR IOT
IoT eSIM is here to change the connectivity market by reducing the total cost of IoT.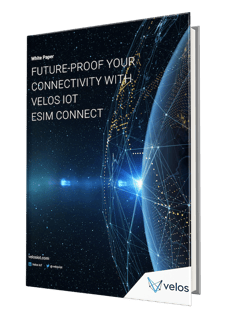 The introduction of eSIM into the connectivity marketplace is quickly changing the way IoT networks handle their connectivity. Essentially, eSIMs for IoT transfer the power from the Network Operator to enterprises and customers, but they also offer a variety of other benefits for the customer in addition to those available with IoT SIMs.
Perhaps most importantly, when applied well, eSIM for IoT reduce the total cost of the IoT solution — increasing return on investment, in turn. If you're thinking of how IoT and eSIM can benefit your business, then Velos IoT as an eSIM supplier is here to help you.
In this white paper you will find more on:
The evolution of eSIM, from traditional SIM to eSIM and beyond

What do you need to know before switching to eSIM

How to know if an eSIM is a good match for your organisation

How to get the most of an eSIM card with circular eSIM management




and

How Velos IoT eSIM Connect makes eSIM easy
Download your free copy today.