Exel Technology - Smart City Taxi
Fleet Management Case Study
Velos IoT's automated network switching and robust SIM management platform propel innovation in the taxi industry.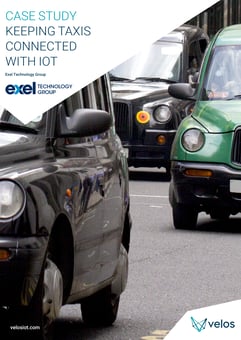 Exel Technology's Mercury Taxi Booking and Despatching is a leading software solution for the UK taxi industry. The company needed SIMs with the highest possible levels of network connectivity in order to avoid missed jobs, enhance the customer experience and reduce confusion in traffic.
With Velos IoT, Exel bypasses these problems and benefits from:
Automated non-steered network switching for maximum signal

Fleet SIM management via Velos IoT's Nomad platform

Dynamic diagnostics to ensure reliability
Complete the form and download the free case study to learn more about why Velos IoT is the best solution for smart city taxi fleet management.