FieldWise Centre Pivot Monitoring Case Study
Velos IoT provides high-stakes connectivity solutions for FieldWise's remotely monitored irrigation sensors worldwide.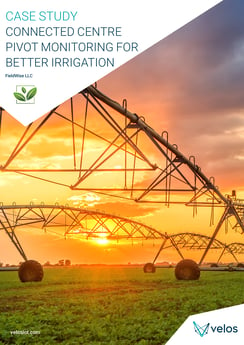 FieldWise is an agricultural manufacturer committed to environmentally friendly farming. Its IoT-enabled centre pivots, moisture probe readers and other sensors need reliable signals in rural areas.
The watering systems operated by this equipment pump 800-1200 gallons per minute, so a lapse in connectivity could mean large-scale waste and crop damage.
Velos IoT provides an elegant solution for FieldWise's challenges:
600+ roaming agreements allow worldwide deployment with redundant coverage

The Nomad operating system puts SIM management in one easily accessible platform

Robust connectivity shortens the response time to weather events and network outages
Complete the form and download the case study to learn more about how Velos IoT solves emergent problems in IoT-enabled agricultural technology.