m-Health Solutions Case Study
The most advanced healthcare devices require reliable connectivity and managed service 24 hours a day, 365 days a year. Velos IoT delivers.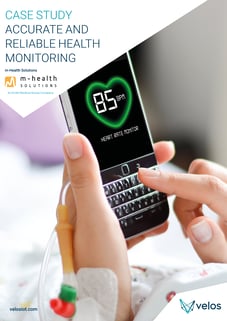 m-Health is a Canadian company behind some of the most novel healthcare innovations in the world. For example, its Mobile Cardiac Arrhythmia Diagnostic (m-CARD) device is a smartphone-based monitoring solution that sends the user's round-the-clock ECG data to a remote diagnostic centre for medical analysis.
In order to function, the m-CARD system relies on advanced SIM management through Velos IoT:
SIM cards with unprecedented network resilience and global connectivity

Comprehensive customized SIM management platform

24/7/365 support and diagnostics
Velos IoT plays a key role in making connected health devices and remote diagnoses possible. For a deeper look, complete the form and download the m-Health Solutions case study.