Mastering IoT Connectivity: eSIM with IDEMIA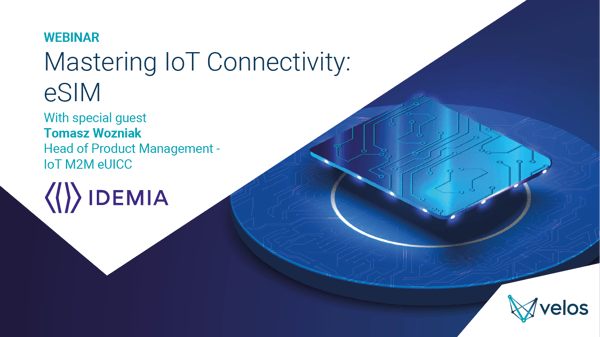 In this webinar session, our Head of IoT Sales, Graham Hart-Ives, was joined by Velos IoT's Senior IoT Product Manager, David Lindblad and IDEMIA's Head of Product Management – IoT M2M eUICC Tomasz Wozniak, to talk about eSIM.
"eUICC means multiple SIMs in one single hardware element," explains Tomasz Wozniak on the difference between a regular SIM and eUICC. Other questions answered during the webinar include:
What is eSIM?

How does an eSIM work?

What is the eSIM market adoption?

How do you master IoT Connectivity in a world of eSIM and roaming?

How does eSIM optimise logistic & transport challenges for tracking companies?

How can eSIM optimise product life cycle management for a medical company?
Download your copy of our eSIM webinar with IDEMIA by filling out the form.
p.s. We might have changed our name from JT IoT to Velos IoT, but eSIMs are still here.
Watch the webinar recording