Phoenix Managed Networks Point of Sale Case Study
Velos IoT powers wireless point-of-sale (POS) devices to give brick and mortar businesses the freedom to conduct business anywhere.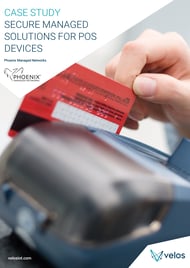 Today's shoppers expect speedy, reliable transactions. Phoenix Managed Networks helps retailers, banks and other payment processing businesses meet that demand with its managed POS services and devices, which enable payment processing away from fixed locations.
Phoenix conducted rigorous testing to identify the ideal SIM partner. Velos IoT was the best solution because:
Its non-steered network access provides the most robust connectivity

Granular controls at the single-SIM level boost performance

Automatic issue detection optimizes customer satisfaction
Complete the form to download the case study and learn more about how Velos IoT helped Phoenix Managed Networks overcome its wireless POS challenges.