Use eSIM to enable Open, Flexible and Truly Intelligent Global Connectivity
IoT organisations need simplicity, flexibility and openness from their connectivity suppliers and eSIM is the solution.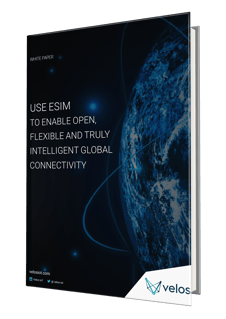 The IoT evolution has put billions of connected devices across the world. However, while the capacity is there and new network technologies are in place to serve IoT applications, barriers still exist. The process to get connectivity from telecoms providers is too complex, too inflexible and too slow. The telecoms industry, in general, takes a protectionist attitude to its position in IoT. Here is where eSIMs come into play.
Learn more about Velos IoT's journey in transforming the telecoms industry with eSIM. In this white paper we cover:
Understanding eSIM

What is an eSIM Profile

What are the different Profile types

How does the Velos IoT eSIM profile solve the IoT challenges
Download your free copy by filling in the form.